We are professional commercial & domestic flooring contractors based in Warrington and we pride ourselves in high quality workmanship and excellent professional service.
We closely work with an extensive network of renowned manufacturers and suppliers who make a critical contribution to the continued success of our business. With over thirty years of experience in the flooring trade that pre-dates the formation of the company, we can offer a wealth of expertise and knowledge. We are dedicated to providing high quality flooring products and installation services along with the highest level of customer service and keep up-to-date on the latest trends and developments in the industry, so that we can provide relevant information and advice that will meet your needs, whether you are using a traditional kind of floor or one incorporating the latest manufacturing technology.
Our work includes:
Sub Floor Preparation
Floor Preparations undertaken include Latex smoothing compounds, water based smoothing compounds, Epoxy Damp Proof Membranes, Over boarding with Flooring Grade plywood.
Smoothing compounds fall into two categories as they can be either water based or latex/Polymer based and are used to greatly improve the original floor surface in preparation for it to receive the new floor covering. Smoothing compounds can be laid onto most surfaces including existing ceramic/Quarry tiles (as long as they are solid and not broken), asphalt floors, concrete floors and even timber floors. If putting a smoothing compound over a timber floor such as plywood then a fibre reinforced smoothing compound is used as this will allow the floor to flex without cracking and breaking up. Most smoothing compounds usually take between 2 and 4 hours to try dependant on conditions such as temperature and air flow but if a job needs to be fast tracked then there are compounds available that dry in 30 minutes and can have a floor covering applied after approx 2 hours.
Epoxy damp Proof membranes are a two part epoxy mix that can be applied directly to a sub-floor that is showing damp or it can be laid over the top of a moisture tolerant smoothing compound which once dry will then need another smoothing compound applied over the DPM. Epoxy DPM's are usually needed if there is no damp proof membrane under the original sub-floor or there is an issue with damp. If you were to take moisture readings of the sub-floor and the RH (Relative Humidity) levels were above 75% then you would have to wait to install the floor, this is typical in new build housing where the builder wants to get the occupants moved in and they are going to need floor coverings. The ways of speeding this up are if the RH is between 75% and 95% then a moisture suppressant can be applied to the floor over two coats . If the RH levels are between 95% and 99% then an Epoxy DPM must be applied.
Over boarding with Flooring Grade Plywood such as FG1 or SP101 is needed when timber floors such as floorboards are wanting to be overlaid with a decorative floor covering such as Luxury Vinyl Tiles. This greatly improves the floor and gives you a flat smooth finish to work on. Once the over boarding is done then a Feather finish is applied to the plywood, this fills in any indentations from the nail heads and also fills in any slight gaps where the boards meet each other.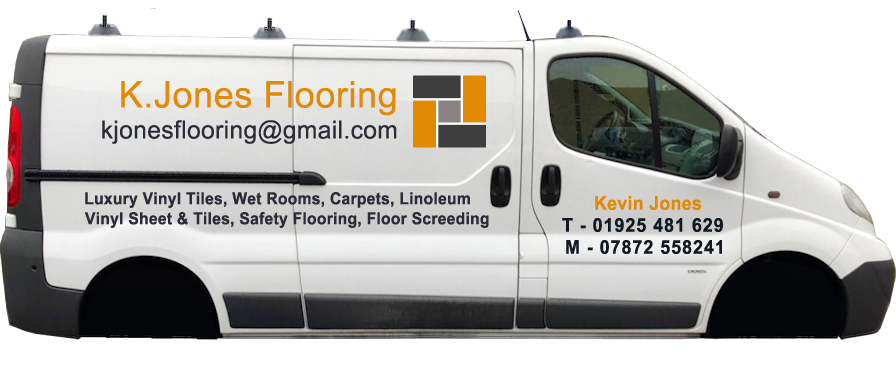 We normally cover Warrington and the surrounding areas in the North West but we don't don't mind filling up the tank to go that extra mile for our customers!
Flooring Types
Different flooring types such as domestic, industrial and commercial are undertaken ranging from carpets, lvt's and vinyl's in the domestic area, industrial gauge non slip vinyl's for heavy work and traffic area and commercial grade vinyl's, carpets and carpet tiles that can be used schools, offices, etc.
LVT
Luxury Vinyl Tiles - LVT brands such as Amtico and Karndean just to name a few give you the opportunities to create your own floor depending on how creative you want to be. This can be just a simple straight lay wood or stone effect floor, Parquet with a border or even your room bordered and then the main floor laid on a diagonal. Loads of designs are available from Basket Weave to Herringbone. If you want something unique then motifs and logo's can be made to show off your creative edge.
Wet Rooms
These can be in your house, schools or even industrial areas. Its a walk in shower area that you put a commercial quality non slip vinyl into and cove the flooring up the perimeter walls and heat weld the mitred corners to form a seal.
Carpets
These can be Domestic or contract carpets for use in the home, schools, care homes and offices. Domestic carpets are usually Hessian/action backed and are fitted with a good underlay and stretched onto gripper rods to get a tight fitted carpet. Budget options in the domestic ranges are felt backed carpets which have a thin felt underlay backing to the carpet. Schools, Offices and care homes would tend to go with stick down carpets which could be corded, matting type or impervious.
Non slip Vinyl/Safety flooring
These can range from domestic quality R10 or R11 slip rated cushion vinyl's to commercial grade non slip vinyl's from manufacturer's such as Altro, Polyflor and Tarkett.
Carpet Tiles
Carpet tiles usually come in a size of 50cm x 50cm and can be laid broadloom or chequer board design . The latest trends in carpet tiles means that they are now made in different sizes and shapes such as rectangles and these can then be laid in various patterns such as Herringbone and broken bond.
Vinyl Sheet and Vinyl Tiles
These are normally smooth vinyl sheet normally 2m in width or tile format in varying sizes and can be used in a wide variety of locations such as kitchens in the home, corridors in schools and hospitals. Easy to clean and maintain and provide a tough surface that will stand up to the heaviest of traffic areas.